Carly Milham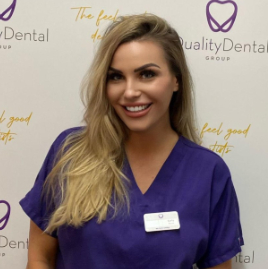 Trainee Dental Nurse
Carly started at Quality Dental Shoreham in May 2021 as a trainee dental nurse.
She is currently studying full time whilst working at the practice and hopes to be qualified as a GDC registered dental nurse by summer 2022. Carly also has a strong interest in teeth whitening and hopes to attend further training once qualifies as a dental nurse.
Prior to studying dental nursing, Carly lived in Spain for over 10 years where she worked in hospitality management.
In her spare time Carly enjoys seeing her friends and taking long walks with her dog.