Kira Pfeiffer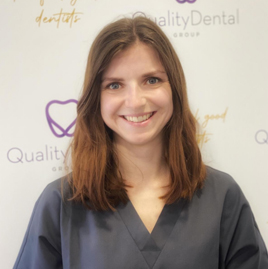 PLVE Dentist
Zahnarzt University of Giessen 2020
GDC No. 303282
Kira has graduated from Justus-Liebig University in Gießen (Germany) in 2020.
During her last year of University, she volunteered for a charity project in Bolivia, offering dental treatments for local communities.
Since then she has worked within a paediatric practice where she completed full mouth restorations for children between the age of 3 and 17. This included treatment under general anaesthesia.
Following this Kira worked as a clinical teaching fellow at Danube Private University in Austria. Before joining Quality Dental Worthing, Kira had been practising in a local dental practice in Germany where she gained a lot of experience in restorative dentistry.
Her main goal is to make her patients' visit as comfortable as possible and provide the best possible care for all of her patients.
In her free time, Kira enjoys to take part in a variety of sports, crafts and likes to read a good book.