Aaishah Ayyub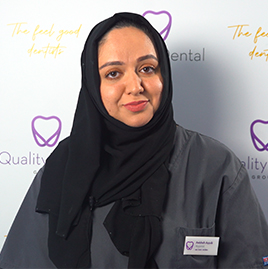 Dental Hygienist
Diploma Dental Hygiene Cardiff University 2015
GDC No. 260450
Aaishah qualified as a dental hygienist from Cardiff university in 2015.
Aaishah joined our team in October 2015. She is very passionate about her profession.
Aaishah aims to improve her patient's oral health by explaining the aetiology of gum disease and implementing the latest dental techniques and oral hygiene techniques.
Working closely with dentists at the practice, Aaishah always ensures her patients leave with healthy gums and a smile they can be proud of.
Aaishah enjoys swimming and participating in many different charity events, raising money for various causes in her spare time.