Emy Tomy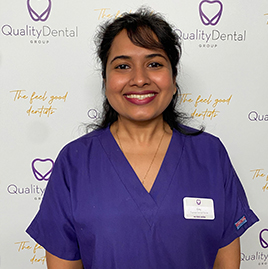 Trainee Dental Nurse
Graduated as a dentist from India on 2018 and moved to UK for my higher studies in Msc Advanced General Dental Practice on 2021.
Her most valuable trait is that she is a people's person who enjoys meeting new individuals and learning about their lives. She always finds some common ground with everyone even if she has to get creative to do so.
Her favourite quote is "Be the change that you wish to see in the world" by Mahatma Gandhi.
She likes to study new things. Hence working towards learning and experiencing more about dentistry by working as a trainee dental nurse. Being knowledgeable about dentistry is an ongoing process, and she's always proactive about seeking new opportunities to develop and grow in her role. Currently waiting for her GDC registration as a dental care professional.
She always believes that chocolate never asks her any questions and chocolate always understands her. Her hobbies are breakfast, lunch, and dinner topped with a chocolate.
Love to spend time and money on travelling (hiking). Trained in classical dance since year 8 she likes reading and listening to music.