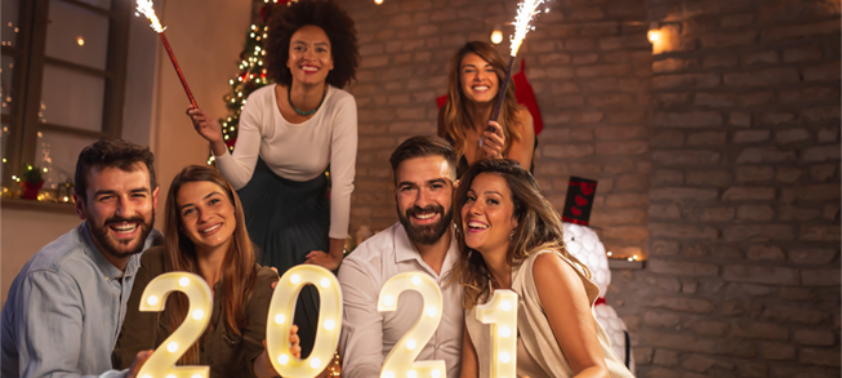 New Year, New Smile, New You
01 January 2021
Is your new year's resolution to feel better about your smile? Maybe you've been thinking about improvements for a while – or maybe spending the last nine months talking to friends, family and colleagues over Zoom has made you take a step back and reassess that smile of yours.
We all suffer from insecurities and doubts when it comes to our teeth. Am I doing enough to take care of them? How do I really look when I smile? Can people see my fillings when I laugh? Well now, thanks to so much time spent in conference calls and in front of screens, we all know the answers to these questions.
And 2021 is the perfect time to address them. Innovations in cosmetic dentistry have made it easier than ever to get the smile you want and deserve, and what better way to celebrate the end of lockdown (when it comes) than with a smile you're proud to finally get the opportunity to show off? At Quality Dental Group, we've been able to keep all our practices open in order to provide our patients with the treatments and care they need, and that includes cosmetic dentistry treatments too.
A brighter smile for a brighter year
After the year we've had we can all be forgiven for looking forward to whatever brightness is on the horizon in 2021. For some, that might mean a big holiday somewhere warm and sunny, while for many more it will mean hugs from family and friends. One way to make sure this year is brighter than the last is to consider teeth-whitening. For so many of us, all this FaceTiming and Zooming has shown us that even a small thing like whiter teeth could help us feel better about ourselves.
At Quality Dental, we offer teeth whitening. Teeth whitening is a safe and effective treatment that patients only have good things to say about and can whiten and brighten teeth that have been stained by tea, coffee, red wine or even smoking.
Smile like you mean it with Invisalign
Invisalign is one of our most popular teeth straightening treatments at Quality Dental. These clear aligners allow you to straighten your teeth with minimal fuss and they're so unobtrusive that we're willing to bet your friends and colleagues won't even notice when you wear them to your next Google Hangout. So, if you've been thinking about realigning your teeth, then Invisalign could be the solution you've been looking for.
Using multiple sets of clear aligners, Invisalign gets to work over several months, during which time you will switch out your aligners to ensure the teeth are moving in the right direction. Here at Quality Dental we also have an Itero 3D scanner, so there's no longer any need to take an uncomfortable impression. It also means we can send a scan of your mouth to Invisalign within 15 minutes, from which we can build a simulation of your unique case and the projected movements of your teeth.
Invest in yourself in 2021 with a trip to the hygienist
If you're craving a change and want to invest in yourself during this current lockdown, then we here at Quality Dental can help you do so. A visit to one of our hygienists could be all you need to help reveal a brighter, better smile. Regular visits to the hygienist help keep your gums and teeth healthy, but they can also help keep them looking great, thanks to innovative stain removal techniques such as Prophy Jet stain removal. Prophy Jet removal gently gets to work using a jet stream of sodium bicarbonate that is able to deeply clean the mouth with minimal discomfort and help remove any superficial staining for a brighter smile to help boost your confidence for the year ahead.