Dr. Dimitrios Soultos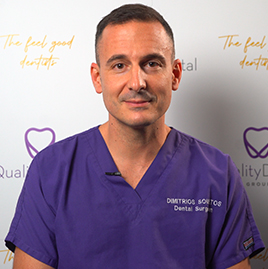 Associate Dentist
DDS (GREECE) , MSC IMPL DEN (WARWICK)
GDC No. 84902
Dimitrios was born in Athens in 1978 and qualified from Aristotle University of Thessaloniki in 2003.
He worked in a maxillofacial dental practice for one year and then worked as a dentist in the Greek Air Force.
In 2005 he moved to Brighton and worked as an Associate dentist at Findon Dental Care. In 2008 he then joined Quality Dental in Worthing and in 2015 started working at Quality Dental's sister practice in Shoreham-By-Sea.
Dimitrios has and continues to participate in professional development in order to keep his advanced dental skills and knowledge both current and at the highest possible standards. In 2008 he gained a postgraduate certificate (PGCert) in Restorative Dentistry at the Eastman Dental Institute of the University College of London (UCL).
The following year, Dimitrios started a four year course and in 2013 was awarded a Master's Degree (MSc) in Implant Dentistry from the Medical School of the University of Warwick. Furthermore, in 2009 he travelled to Sao Paulo, Brazil where he attended an intensive practical course in Implant Surgery coordinated by Prof. Alexander Salvoni. He is currently an ITI (International Team for Implantology) Member, and he tries to keep himself updated with all the latest knowledge in implant dentistry attending congresses nationally and internationally.
Dimitrios provides a Minor Oral Surgery service to the Surrey and Sussex Area Team, NHS England, for other dental practices in the area.
In addition, he currently holds an Enhanced Dental Practitioner position within the Surrey and Sussex Area Team, NHS England, accepting referrals from other dental practices to treat patients needing complex restorative treatment.
He is also an approved Vocational Dental Practitioner (VDP) Trainer from KSS Deanery. As part of this Dimitrios teaches, supervises and mentors newly qualified dentists during their first year of clinical practice. For this reason, he has completed numerous adult learning/education courses.
He always aims to give the very best to every patient, and treatments are carried out in a very relaxed, caring and professional manner.