Dr. Krishma Gujral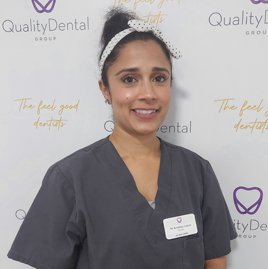 Associate Dentist
BDS (LOND) 2010, BSC HONS (LOND)
GDC No. 194365
Krishma qualified from Barts and the London School of Medicine and Dentistry in 2005 and completed her vocational training year in Essex.
She then took a big leap across the pond over to Australia to work as a dentist in the private sector to further enhance her knowledge and skills within the profession. She had the best experience and learnt many other life skills along the way too.
Upon returning to the U.K, Krishma went back to practice and care for her patients in London before relocating and joining the Quality Dental Team in 2015. She is thankful to work alongside a great team to allow her to stick to a busy schedule and helps ensure that she can provide the best for her patients at all times. Her need for thoroughness and work rapport with her nurse and the four-handed dentistry they together provide has been recognized and always appreciated by her long standing patients.
Dentistry is a profession which is ever changing and needs continuous professional development throughout our careers to help us all improve the way in which we provide and carry out all aspects of treatment. Krishma is a well organised individual and is always focused on keeping up to date with the innovations in the dental world. Whilst this is true she has always been a firm believer that 'Prevention is better than cure!' and plans to practice this throughout her career.
Outside of dentistry Krishma's interests include travelling to explore and experience all that the beautiful world has to offer. She has a passion for interior design and likes to spend her spare time on renovations and building projects. Oh, and of course not forgetting spending a beautiful sunny day on a golf course!