Dr. Omar Patel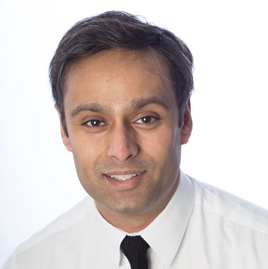 Specialist in Periodontics
BDS MPERIO MCLINDENT
GDC No. 81976
Omar qualified in 2003 from the University of Glasgow winning the prize for conservative dentistry as an undergraduate.
In 2005, he became a practice principal and subsequently a vocational trainer with the responsibility of training newly qualified dentists. He was awarded the Diploma of Membership of the Faculty of General Dental Practitioners of the Royal College of Surgeons of England in 2007 and the Diploma of Membership of the Faculty of Dental Surgery from the Royal College of Physicians and Surgeons of Glasgow in 2008.
Whilst working in general practice, he undertook advanced training in restorative dentistry at the Eastman Dental Institute, completing the Certificate in Restorative Dental Practice in 2008. He is currently a Specialist Registrar in Periodontics at Guy's Hospital, London, undertaking all aspects of periodontal therapy including surgical, non-surgical, muco-gingival and implant therapy. As well as providing periodontal care at Kingsend Dental, he is an active member of the British Society of Periodontology and has a special interest in the association between periodontal disease and diabetes. In 2015, he received the Ron F. Wilson postgraduate research award from King's College London for clinical research and has presented his research internationally.
He was recently awarded the position of examiner for the Licence in Dental Surgery from the Royal College of Surgeons, England, the oldest continuously existing dental qualification in the United Kingdom.
Omar is a keen golfer and tennis player, and enjoys hill walking and long distance running on the weekends. He also has a degree in Computing and has a passion for all things technological.