Rasiina Sugulle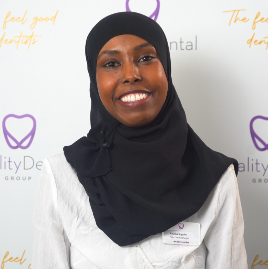 Practice Manager
National Diploma in Dental Nursing NEBDN 2012
GDC No. 236995
Rasiina has worked in the Dental industry for over a decade.
She has a plethora of experience in all aspects of dental care and superb interpersonal skills. After graduating as a qualified dental nurse in July 2012, Rasiina also gained a qualification for Dental Radiography.
Her passion to help patients receive excellent dental health and satisfaction is prevalent. Furthermore, promoting business growth through man-management and development is evident.
In her spare time Rasiina enjoys playing tennis and spinning.