Lisa Victoria Grigg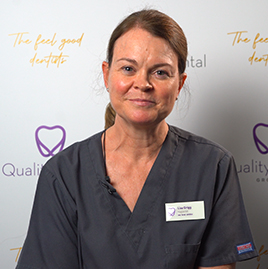 Dental Hygienist
CEB CERT IN DENTAL HYGIENE 1992
GDC No. 4212
Lisa qualified as a Dental Hygienist in 1992 at The Eastman Hospital.
As a Hygienist Lisa has worked in mainly private practices in London and West Sussex. Lisa joined Quality Dental Care in 2008. She enjoys being part of the Quality Dental team, providing essential hygiene and maintenance advice to prevent oral health problems. Lisa always has a friendly and caring approach to all her patients.
She is a member of the British Society of dental hygienists and therapists and likes to keep up to date with the latest advice on dental hygiene.